When I wrote yesterday: "Let's go to Carnival", I wasn't joking, and neither was I referring to a nostalgic longing for Rio de Janeiro. No, no, it was an announcement for "Boi Bomba", the carnival of the Amazon Indians. They celebrate it every December but perform also for tourists during the rainy season – high season for the passer-by tourism.
Parintins is the capital of Boi Bomba. The city is an "important regional centre", situated on the south shore of the Amazon, half way between Santarèm and Manaus. Total number of inhabitants is rumored to be around ten thousand, spread out over about one thousand square miles. For the first time did I see older people on the streets; one of them was a middle-aged man with an amputated left big toe. He obviously did not want to hide it …
Boi Bomba!! It is a breath-taking show (for performers and onlookers a like), comparable to the Rio samba shows, although it contains traditional ritual themes around bulls, dragons, storks and sorcerers. The flashy colors, the music and song, the unrelenting rhythm and passionate dancing, which make all your still functioning sensorial receptors strung to breaking point, is indescribable and not imaginable if you weren't there. Boi Bomba is a festive gastronomic meal for all the senses, which leaves an intensive palette of tastes, even hours after leaving the table.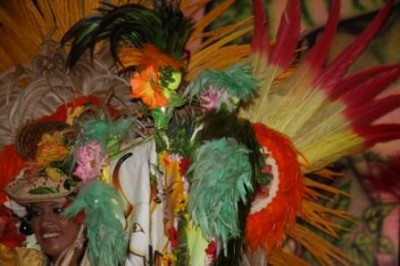 I have no other news today. I would have loved to upload fifty pictures to share with you all the beautiful, happy, smiling, young folks who appeared to be actors in a dynamic, swirling painting that was being created with a thousand brushes, as you are watching. Boi Bomba? A feast!
Prinsendam, Day 14 – Tuesday Jan18th, 2011
Jungle trek tomorrow with a machete-wielding Indian guide