Rio de la Plata, Silver River, but there was no shiny Plata at all, never has been. As a matter of fact, the rio looks as muddyish as the Amazon. That is not abnormal, for it carries sediments down from similar highlands through similar lowlands into the Atlantic. This 160 mile long estuary is, in essence, not "big". It definitely is among the world's largest in surface, but it disappoints in volume, for it is very shallow, with only a very narrow navigable channel.
On its North side there are rolling hills, infinite beaches and blue rivulets that empty, and disappear, in the brown Rio de la Plata. On the South side stretches Argentina, for thousands of miles, pampas, all the way into Patagonia and halted in the West by the Andes wall. Judging by their capitals, and surroundings, Uruguayan and Argentine society are, surprisingly, different.
Starting with a local monument: there is no argument about the tango, the shared national dance. Both Montevideo and Buenos Aires agree that they represent, and still are, the cradle of tango. We wouldn't be "homo sapiens" if we would have agreed to have one and only one tango for neighboring cities though. Conoisseurs posit that Urugayan and Argentinean versions are different. I have watched both versions and was, understandably, unable to discern those differences. That means that the similarities must have dominated. One of those similarities is that the female partner, regularly and energetically, kicks, swings and turns (all simultaneously) her sharp heels up – between the legs of the male partner. Surely, as a young man, you must put a lot of trust in the proficiency of your dance mate! I suggest that one never dance the tango with his wife in the midst of a running argument … (Chances are that most of us won't get hurt, because the dance probably takes us a lifetime to learn and by then energy decreased and harmony, presumably, increased ).
Romantics claim that Montevideo has been so named because a sailor on Magelhães' ship (1520) saw the little hill and yelled out "Monte vidi eu". Not perfect Portuguese it seems, and not likely neither, because the city was founded two hundred years later. The historians, having their own variety of romanticism, bring it all back to a bean counting cartographer who wrote down: MONTE VI DEO. This supposedly meant Hill no. 6, Del Este al Oeste. I did not watch the passing hills but reliable sources say that the little butt, west of the city, is indeed still the sixth, counting from the entrance of the Plata estuary.
Uruguay has 3.3 million inhabitants, 40% of which live in the capital. Apart from a huge baroque parliament building – always a symbol for flourishing democracy, which often exists only symbolically as well – and a few well preserved temples, such as the opera in downtown and the Centennial Stadium on the outskirts (where Uruguay won the very first World Cup in 1930), the city has little to get excited about. The commercial downtown area measures a few square miles and projects the image of a medium size regional city in Spain or Portugal (such as Bilbao, or Oporto). Leaving the center, even the erstwhile beautiful neo-classical patrician houses immediately offer a depressing view, interspersed by low and simple houses, downtrodden and dark. People obviously are not well off, an observation that gains in veracity as you move farther from the center. It appeared to me that Uruguay was a society with little or no middle class, and with few, if any, ways and means to create such a middle class.
The countryside is equally unimpressive, not to say outright boring: shallowly rolling hills, relatively green pasture and bush, with little or no movement. I was told that it hides 6 million heads of cattle and double that amount of sheep. More towards the North the land gets hillier and shadier, and at its extreme Western side it offers great Atlantic sandy beaches, culminating in rich and prosperous Punta del Este. That resort is also a magnet for rich Porteños (=inhabitants of Buenos Aires), who bought second or third residences on that side of the river.
Personally, I could not resist the temptation to visit a local winery. In a flat land, relatively hot in the summer (it was 30°C/86F), relatively little rain, suffering from frequent and substantial southerly winds, one adjusts his expectations. Basically Uruguay makes primarily red wine, from primarily indigenous grapes. Indigenous means that they are Italian or French varieties that have been crossed with local vines, to better withstand the climate. Most of the wine is made from "Tanat". It is an acceptable table wine for a summer BBQ. We also drank a white chardonnay-viognier which was refreshing (after 90 minutes on a bus) but showed little other characteristics. Most surprising of all was the price they were asking: $9 for the cheapest bottle and $800 for a bottle "Port-like" wine from 1992. For that price one may probably still be able find a bottle of 1970 Vintage Port ..outside of Uruguay
Continuing on the wine trail, I also visited a wine merchant and cellar in Buenos Aires. Argentinean wines are, in Europe, less invisible than their northern neighbors, especially the so called "national pride", malbec, is easy to find. Here I tasted an espumante, a white from high up the Andes, and three Mendoza reds (Bonarda, Syrah and Malbec). The "Méthode Champenoise" bubbly liquid was quite indistinct, and it would not beat most traditional European competitors, certainly not the likes of Cava, Prosecco or many other well made bubblies. Yet, they were asking $19 for a bottle. The other two local grapes (claimed to be varietals from Toscana) did not impress nose nor palate. The syrah was good enough and the malbec was, in my humble opinion, a balanced, round and pleasant red wine (with broiled red meat, preferably). However the price of a 2006 Malbec was … $45. At those prices I think that Argentinean premium and export wines will remain "small business" for many years to come.
Buenos Aires is, without a doubt, one of the world's top capitals. What it lacks in natural beauty, compared to Rio, it makes up in architectural grandeur. Where the people and the state found, and find the money to build and maintain all the splendor, has remained a secret for me. Not only does the city boast magnificent buildings from the 19th and 20th centuries, including a subway dating back to 1913, they are renovating old neighborhoods in styles resembling the best projects in Europe. Obviously, the middle class is growing in Buenos Aires, and there is optimism in the air, notwithstanding the renewed problems with government finances.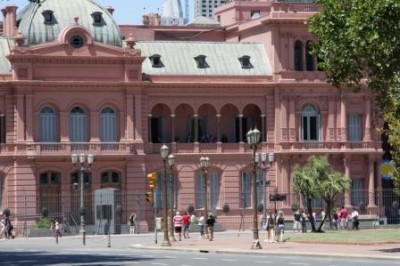 I visited the city by bike, too. It was my first ride since my shoulder operation. The bike did not resemble the vehicle that I am used to, but two working brakes gave me enough confidence to dive into the Monday morning traffic. The idea was to drive more or less along the Plata River, towards the southern origins of the city. The end objective was "La Boca", home of the world famous Boca Juniors soccer team. That is also the neighborhood, and the team, where world famous Diego Maradonna spent his youth. La Boca has nothing in common with downtown, even the language, already a stretch to understand in the center of the city, becomes a garbling of zjjjjjs and strange nasals.
At this site Buenos Aires was founded, 400 years ago. After a yellow fever outbreak, wherein the substantial black population got virtually wiped out, all the people that could afford it left the area, and it has forever remained a backwater of sorts. These days some folks make a few pesos off the tourism industry, with ransack souvenir stores and cozy restaurants – but the area remains visibly poor. The only cars that one sees in the streets are always small, never clean, and thirty years old, or more. Perhaps that explains why few are moving, and most are parked along the sidewalks.
The most adventurous part of the ride took me from La Boca to San Telmo. It was a long cobblestone street, going uphill. The climb was not really steep, but the street was intended for two vehicles, with not too much space for passing or crossing cars to spare. I tried to convince my American companions to ride more towards the middle of the street, on the basis that it was the best way to make sure that the cars coming from behind, would SEE us. In my time-tested experience, even aggressive drivers will slow down, or stop, when you are really in their way. (Of course they will honk and curse). On the other hand, when riding close to the sidewalk, many car drivers, certainly the local variety, is convinced that they can pass without touching anybody, right nor left – and they "go for it"! Luckily everybody survived, although one lady had to catch her breath for a couple of minutes, after a "too close encounter", or was it due to energies spent?
After three and a half hours of meandering, mixed with some deft moves, the "Tour" was came full circle, and we were all safely back in the port, although many butts did visibly hurt. To restore the burnt calories, I ate a spaghetti-pomodori, plus a vanilla-chocolate ice cream, before a well-earned siesta. At 4pm the captain called us all onto the deck for the monthly "Abandon Ship" drill. There were about one hundred passengers at Lifeboat #3. As part of the procedure the skipper did his best to explain that we would all fit in our boat, if we followed the directions of the crew. He added that he did not expect such a situation to actually happen! I, for one, do not believe, after two of these sessions and judging by the experience with tender operations to shore, using those same sloops, that we all fit in the Lifeboat #3. Therefore, I wholeheartedly share his hope and expectations.
Ciao Buenos Aires! Indeed, Ciao, and not "Hasta la vista" or "Vaya con Díos". Italy still lives in this town. As a matter of fact the Italian larynx and sinuses are built too narrowly to properly speak the local lingo, so it is not difficult to guess their origins. Meanwhile the entire Mediterranean is represented here; the last wave brought Romanians, arriving after Lebanese and Armenians. One can probably match immigration patterns with the world hot sports, starting with WWII. Interestingly though, Argentina does not propagate "multiculturalism", which has been the "final solution" preached by the western "intellectual left" during the last decades. On the other hand, they have achieved peaceful co-existence between these cultures, all speaking (their brand of) Argentinean, a living language and a language of life-loving people.
We are now diving straight south, sixty hours to the Falklands for a short stop and penguin visit, and then onward to Antarctica. The ocean starts to resemble the North Sea: color, wind, sound and temperatures are all familiar.
Prinsendam, Day 35 – Tuesday Feb 8th, 2011
En route to the Falklands … or are they the Malvinas?